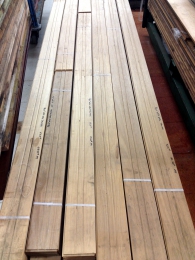 About Hardwood Flooring
Last Updated October 26th, 2020
Hardwood flooring comes in two principal forms - solid or engineered. Solid hardwood flooring boards are milled from a single piece of wood and are usually made with a tongue and groove pattern so the pieces fit together on all sides. The standard thickness for hardwood is 3/4". For thin profile hardwood 5/16" is the standard. The planks are sawn in one of three ways (Flat Sawn, Quarter Sawn or Rift Sawn) which affects the stability and price.
Engineered hardwood flooring is manufactured by gluing a real hardwood veneer to a core board made of either plywood or high density fiberboard. There are three different ways to cut the wood veneer (Dry solid-sawn, rotary-peel, and sliced-peel) which affect price and thickness. It varies in thickness, but is typically between ½ and ¾' thick. It is normally sold in uniform lengths and can be up to 12" wide.
Both Engineered and Solid wood flooring is available with or without finishes.
Options for Reuse:
As is – may require minor repairs, nail pulling, chopping or refinishing. Recycling & Waste to Energy are options depending on impacts of any coatings.
Additional Outside Resources:
National Wood Flooring Association