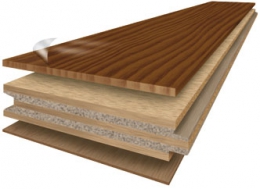 About Engineered Flooring
Last Updated October 26th, 2020
Wood flooring products come in two principal forms - solid or engineered. Solid flooring can be purchased in either hardwood or softwood species. Hardwood is more commonly used, as it is often more durable. The flooring is variable in width (2" – 12") and thickness (3/4" – 2") and may come in uniform or random lengths. Flooring is often made with a tongue and groove pattern for secure installation, although some strip floors are square-edged.
Engineered flooring is manufactured using a solid veneer glued onto a wood substrate. This type of flooring is usually made with a tongue and groove. It varies in thickness, but is typically between ½ and ¾' thick. It is normally sold in uniform lengths and can be up to 12" wide. The flooring is manufactured by laminating a piece of solid sawn veneer (varying in thickness between 3/32" and 3/8" (2 mm – 9 mm) to a substrate, often a fibreboard or plywood material, but sometimes a piece of lower grade solid material of the same species.
Both Engineered and Solid wood flooring is available with or without finishes.
Options for Reuse:
As is – Flooring, but may require minor repairs, nail pulling, chopping or refinishing. Recycling & Waste to Energy are options depending on impacts of any coatings.
Additional Outside Resources: